DISCOVER THE DIFFERENCE! - CORE AND MORE
St. Anthony offers so much more than a common core aligned curriculum. Check out these five reasons to explore
St. Anthony for your child:

FAITH: Christ is the "principal" of St. Anthony. Learning the Catholic faith and respecting one other is reinforced every day.
COMMUNITY: Our dedicated teachers give each child individualized attention and welcome each family into a warm,
supportive community. This sense of belonging helps students feel more secure when circumstances are beyond their control, allowing them to focus on their education.
PERSONALIZED INSTRUCTION: Whether it's in person or from a distance, our schools provide a caring, creative and quality learning environment personalized for each student. We challenge students to aim higher academically, spiritually and personally.
VALUES: We teach love, care and concern for others as a part of our curriculum. Students in all grades have the opportunity to participate in community service and mission projects. Values of respect, discipline, diligence and compassion are instilled
in all students.
ACCESSIBLE: We offer tuition assistance to help families afford tuition, including a Welcome Tuition Grant for public-school transfer students.


To Request a Tour of the School and/or Meet with the Principal, please call or email:
515-243-1874
Jennifer Raes - Principal
Hello St. Anthony families!! The staff and I are excited and incredibly blessed to get to work at St. Anthony, and to have the opportunity to share and teach about our faith within all of the curricular areas. We greatly appreciate the support from our SAS families to our school programs and teachers. We also value the partnership in the education of your children. Parents are the primary educators who provide guidance and examples of being faithful Christians. At SAS we want to know and build on the individuality of each child and help them to grow in their knowledge and in their faith so they can become responsible, respectful and independent members of the community and Church. Thank you for choosing St. Anthony School!

Many blessings, Ms. Jennifer Raes





New Catholic Tuition Organization Guidelines!!
CTO, the Catholic Tuition Organization, has new income guidelines this year. It's wonderful because even more families will be able to get financial assistance with tuition! Stop in the school office for the forms to apply. See additional information below:
Announcements
------------------------------------------------------------------------------------------------------------------------------

We are still adding rocks to our Friendship Rock Garden around St. Anthony's statue. So please have your kids paint rocks anytime and drop them off in the Friendship Garden.
Seguimos agregando piedras a nuestro Jardín de La Amistad de piedras, que esta alrededor de la estatua de St. Anthony asi que motiven a sus hijos(as) que pinten una piedra y la traigan al Jardín de la Amistad.
------------------------------------------------------------------------------
Wednesday, May 19
will be our last time the 8th graders will join us for an all school mass. We will do a blessing over the 8th grade and all leaving staff and students at that mass.
On the last day for K-7 we will have our final mass together – it will be outside at the Grotto
at 8:45am
.
El miércoles , 19 de mayo, será la última vez que los alumnos de 8vo grado nos acompañen en la misa. Haremos una bendición sobre los alumnos de 8vo grado t todo el personal y alumnado que se va. El último día para K-7mo, tendremos la última misa juntos. Esta se realizará afuera en la gruta a las 8:45am.
Thursday, May 20
is the last day for PreSchool (3 year olds) and PreKindergarten (4 year olds).
El jueves, 20 de mayo es el último día para Prescolar ( los alumnos de 3 años) y el Prekindergarte(niños de 4 años)
Things to know –

On Thursday, May 27
at the end of the day, the school kids in K-7 will clap out the 8th graders as they leave school on their last day. 8th grade graduates that night so they have their last day on Thursday.
Información importante- el jueves, 27 de mayo , al final del día, los alumnos de la escuela de K-7mo, aplaudirán a los alumnos de 8vo grado mientras dejan la escuela por última vez. Esa noche el 8vo grado se gradúa y el jueves es su último día.
Changes to the last 2 days of school.
Cambios a los 2 últimos días de escuela
El jueves, 27 de mayo , no hay salida temprana.

El viernes,28 de mayo , saldremos a la 1:00 pm
---------------------------------------------------------------------------
Calendar/ Calendario
8:30am

All school Mass and May Crowning Mass, hosted by 8th grade

8:30- misa de toda la escuela y Coronación de Mayo liderada por 8vo grado.

Please send your Kindergartener through 5th grade to school with flowers we can plant outside, and send 6th to 8th graders to school with any money donations to buy planters and potting soil.

Por favor, envíen a su alumno(a) de los grado Kindergarten a 5to , con una flor para sembrar afuera. A los alumnos de 6to a 8vo se les pide una donación de dinero para comprar macetero y tierra para sembrar.
10:00

dismissal for morning PreKindergarten 4 year old class

Salida temprana a las 10:00 am para la clase de Prekindergarten de la mañana, los niños de 4 años.

2:00

dismissal for all Kindergarten through 8th grade students

2:00 pm - salida temprana para todos los alumnos de Kindergarten a 8vo

2:00 to 3:00

Kona Ice Truck selling treats in the smaller parking lot

De 2:00-3:00, el camión de Kona Ice estará vendiendo golosinas en el estacionamiento pequeño.
No school for any students

NO HAY ESCUELA PARA LOS ALUMNOS

Professional Development Day for teachers

DÍA DE DESARROLLO PROFESIONAL PARA LOS MAESTROS(AS)
------------------------------------------------------------------------------------------
Be safe and God bless you.
Cuídense y que Dios los bendiga.


Jennifer Raes, Principal St. Anthony School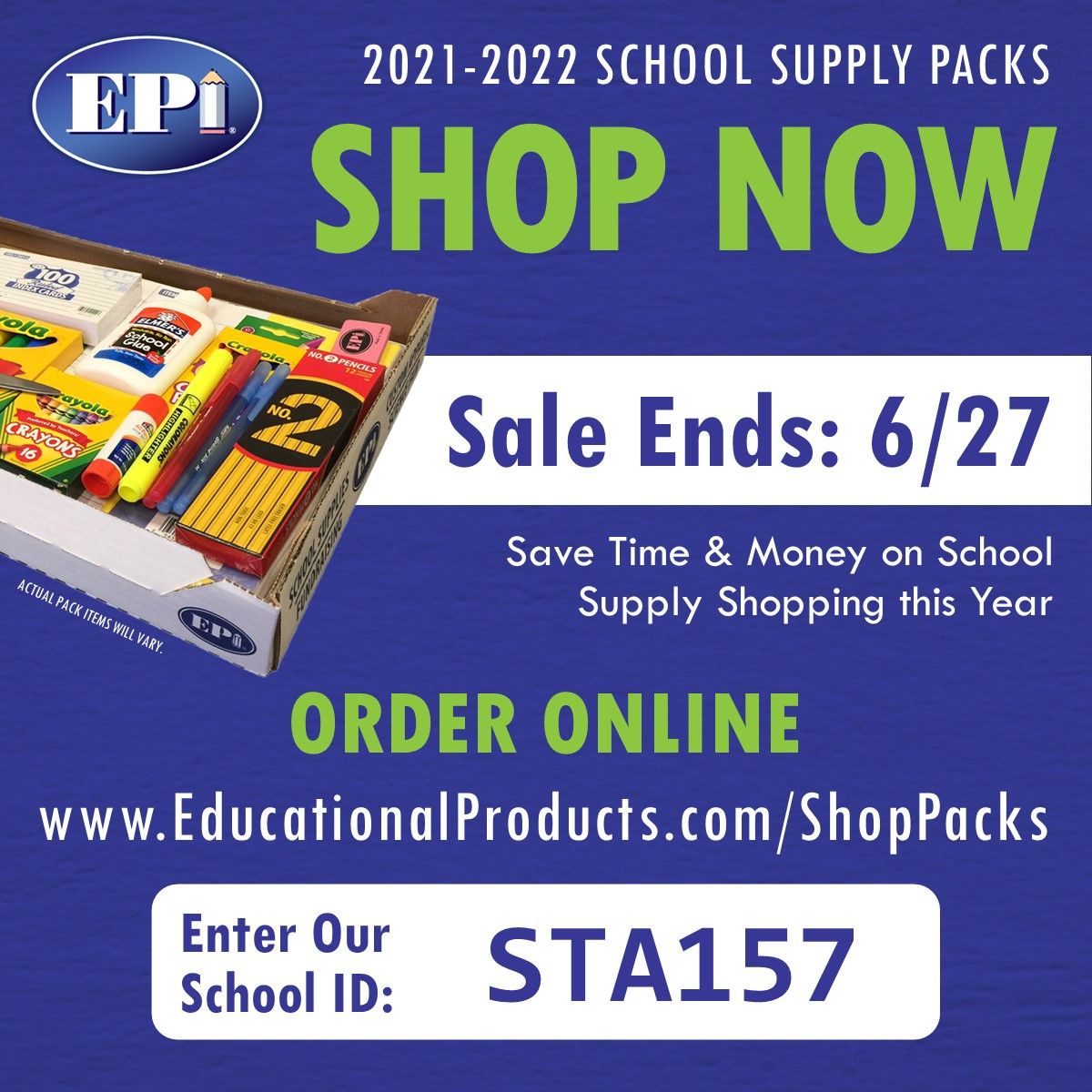 Return to Learn Video by Principal Raes - Please Watch!!
Saint Anthony's School provides a quality education for children in grades from Pre-K through eighth. The school meets or exceeds all state standards and employs only fully accredited teachers. The academic curriculum is infused with religion daily. Students plan and attend Mass on a weekly basis with many other opportunities for spiritual growth and family values. Students have the opportunity to participate in sports programs, local and city academic contests, and service projects.
Alumni Campaign
SAS Tuition Assistance
Click Above to Donate, then
Click "SAS Tuition Assistance" Under "Gift Information" options on the right hand side of the giving page
Spanish Immersion

St. Anthony's is one of only 3 Spanish Immersion programs in the state of Iowa.